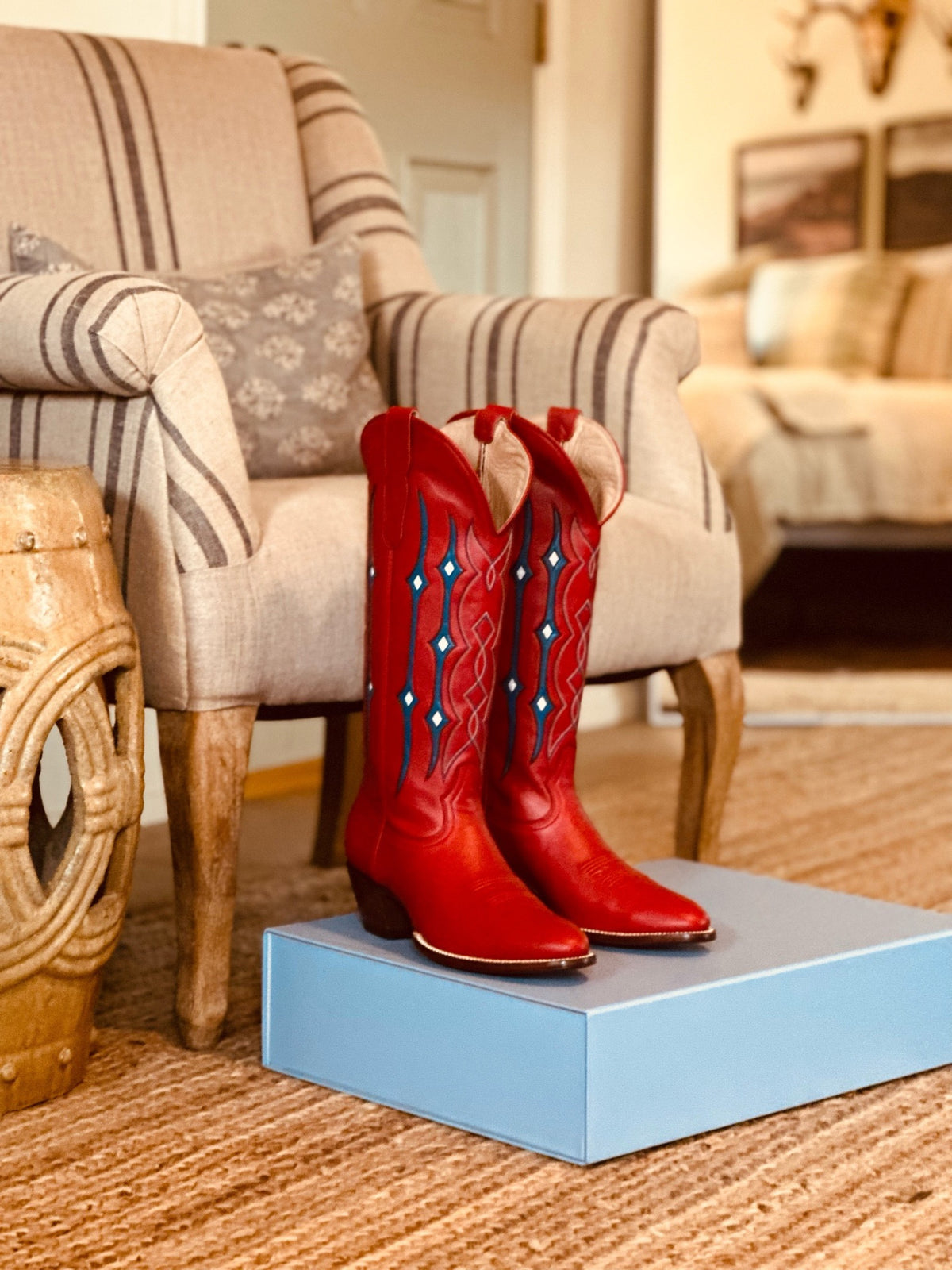 The Trailblazer Times: Amber Venz Box
Amber Venz Box knows the business of The Boulevard. Although she's come a long way since her college days, tailgating on SMU's front lawn, she has effectively built an empire off of the simple questions "Where is that dress from?" or "Where can I get those shoes?" exchanges often overheard between girls on gameday. 

 Now the powerhouse co-founder and president of LIKEtoKNOW.it and RewardStyle, Amber has created a mutually beneficial fashion ecosystem, connecting influencers with the brands they're wearing and loving. We got to sit down with her, gush over the way her fiery red hair matches the bright red of our boots, and gain more insight into her journey from SMU to the impact she's had on the fusion of social media, fashion, and online shopping.
Amber Venz Box wears The Boulevard
"I would tell SMU student Amber to enroll in a few business strategy classes at Cox, she's got no idea what's in-store for her!"
Amber wears the Red and Bone Heart Boot. 
Amber, you are Dallas-born and raised. Do you feel your personal style pulls Texas influences?
Absolutely! Especially right now. We moved to our far west Texas ranch earlier this year and my wardrobe is now full of boots, denim, leather, and Americana. Texas women have a beautifully glamorous twist on that style, and I enjoy dressing for my environment every day. I love that there is a uniquely "Texas" look and culture - how special!
What piece of advice would you give a young female founder just starting out?
Be all in. Dont say "yes" to any distractions- including side hustles, loose friendships - set all of that to the side. 
Know your strengths and focus on those. Find someone else to join you who fills the gaps. Spreading yourself thin with tasks outside of your core strengths will only make you weaker. For me, that was finance and engineering. 
"

Cowboy boots are having a MOMENT! And, I am all in.

."


It's crazy that so many of my friends are getting their first pairs of boots right now. Whether you're from Texas or not, a good pair of boots is a must-have item and I love it! 

When it comes to other current trends that have caught my eye, I'm also loving all of the new styles of denim. We were in a skinny jean vortex for a while, and while I'm not getting rid of those, I do love the ankle flares, horseshoe denim, and the new cuffed wide-leg styles. 



 
Lizzy and Amber are both SMU alums, Pony Up!
What is an accomplishment you are most proud of?
My family - I am so grateful to have found and married my soulmate and to have four young children. I wanted a big family and so far, it is exactly what I prayed for. 
When you launched LTK, what was one thing you hoped to change within the fashion or tech landscape?
It's worth noting that when we launched LTK, "blog" was not yet part of common vernacular nor was it in any dictionary. There were a handful of retailers who sold online, Instagram did not exist and the "it girls" used a BlackBerry - so digital fashion and tech as we know it today were nascent. 

 
I wanted to be able to support myself by sharing my passion for style and fashion with others online, and help others to do the same. I can confidently say that we have achieved that. Hundreds of thousands of creators drive more than $4B in annual retail sales and have made meaningful careers out of their passion. Download the LTK app and follow me @AmberVenzBox <3
Amber wears the Red and Bone Heart Boot.